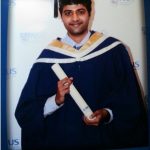 About Me
As a full time graduate teacher with Second class Honours degree from National University of Singapore, I specialise in teaching Mathematics for students from various international syllabi such as IB, AP and HSC. I am a dedicated and passionate individual who is committed to providing a positive and enriching learning experience for my students. Previous students have obtained A grades in their final examinations. I have taught students from various international schools such as Australian International School, Saint Francis methodist school, Overseas Family School, Canadian International School, Anglo-Chinese Independent, Saint Joseph's Institution, Singapore American School to name just a few.
I also have experience teaching university students in advance math modules that are calculus or analytical based and students have achieved significant results improvement within a short semester duration.
I possess a strong understanding of subject matter and am able to effectively communicate complex concepts in an engaging and understandable manner. I have obtained A grades in Advance Maths and calculus based Mathematics modules in University.
In addition to in-depth knowledge and teaching skills, I am also patient, caring, and supportive of my students. I create a safe and inclusive classroom environment and am able to adapt my teaching style to meet the diverse needs and learning needs of my students. I am also willing to go above and beyond to inspire and motivate my students to reach their full potential and achieve their academic and personal goals.
Location you wish to go
Central
North
South
East
West
Qualification
Current School Teacher
Educational History
Current School Teacher
Ex School Teacher
University Graduate
A Level
Secondary Levels
English
Math
Additional Math
Science
Physics
Chemistry
Biology
JC / Pre U
Further Mathematics
Physics
Chemistry
Computer Science
IB Diploma Level
Mathematics
Physics
Chemistry
Computer Science
International School Level
English
Mathematics
Science
Biology
Chemistry
Physics
Theory of Knowledge (TOK)
Tertiary Levels
University Engineering Diploma and Degree Level modules